Spot the Arab opened at Backspace Gallery, Ballarat on March 1, 2018. (See images below)
Local artists, photographers, arts administrators, friends and family of the artist, journalists, and the general public from Ballarat, Bendigo, Geelong, Melbourne and beyond were in attendance for an evening of "Arab-spotting" on the walls of this art space (housed in a heritage-protected, former police station), funded and supported by the City of Ballarat.
Deborah Klein (Arts and Culture Co-ordinator), Cash Brown (Curator and Conservator at the Museum of Australian Democracy at Eureka) and Jonathan Turner (exhibition co-curator, Rome), opened the exhibition, which continues through March 18, Thursday – Sunday, 12 – 4pm at Backspace Gallery, Camp St, Ballarat.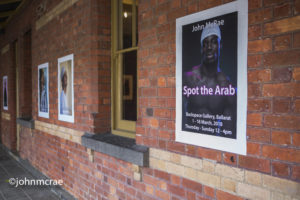 In particular, the "Selfie Stand" was a huge success. This is a portable photo-booth which has been set up, where visitors to my exhibition can use their mobile phones to take a self-portrait wearing Arab head dress or costume provided, standing in front of a desert landscape backdrop I photographed in Israel/Palestine.